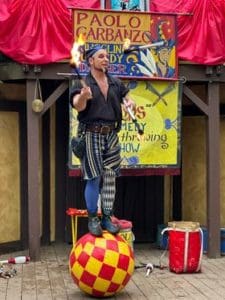 Paolo Garbanzo has performed for crowds all over the US and Europe. He's been a member The Flying Karamazov Brothers, earned the Lifetime Achievement Award by the International Juggling Association, and performs his shows in three languages.  In 2007 he won the International Jester Competition, making him an official Jester of Muncaster Castle in England, and the first American in history to be an official Jester of an English castle. Committed to comedy, skills, and his audience, he continues to grow as a performer and producer.
Paolo's professional career started back in college when he directed his first juggling troupe The Garbanzo Brothers.   They traveled up and down the east coast performing at amusement parks, festivals, and for The Kennedy Center in Washington, DC.
Building a repertoire of skills and adding more festivals to his tour, he moved to the west coast and joined the buskers at San Francisco's famous Pier 39, keeping pace with the best street performers on the west coast.
In 2002, Paolo started The Accidental Circus, a sideshow comedy burlesque revue that performed across the US for ten years.
Paolo traveled to Turin, Italy in 2003 to teach juggling and comedy at La Scuola di Formazione Arti Circensi, the school for the formation of circus arts, at the Royal Gymnastics Academy in Torino, or "FLIC" as it is called.  This started his European touring as he began performing at festivals from England to Czech Republic.
In 2005 Paolo joined The "Oops!" Comedy Knife Throwing Show with Carl Asch (aka Giacomo The Jester), and toured this show to many renaissance festivals around the US.
Paolo started Renadventures in 2015, a tour company that gives small group tours to many of his favorite places in Europe.
In June 2007, Paul won the International Jester Competition at Muncaster Castle, England. Paul is an official Fool of Muncaster (and Honorary Fool of England). He is also the only American to ever be Jester of a England castle. Visit the official site to the castle here:
Always striving, In 2010, Paul developed the infamous and popular 'Mousetrap Show', an ensemble comedy act incorporating storytelling, combat juggling and over 400 mousetraps. In 2012, Paul formed The Fools of Fortune, a high-skill ensemble juggling show with amazing technical feats and comedy.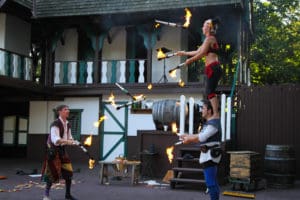 RenAdventures excursion tour company was launched in 2015 by Paul with Carl Asch, taking people to locations across Europe for unforgettable adventures in culture and camaraderie.
Paolo continues to perform across the United States and internationally, connecting with audiences through smart comedy, artistry, and dazzling physical skills.